YOKOHAMA F. MARINOS SIGNED AS OFFICIAL FOOTBALL MANAGER PARTNER
Deal with five-time J. League winners is studio's first with a Japanese club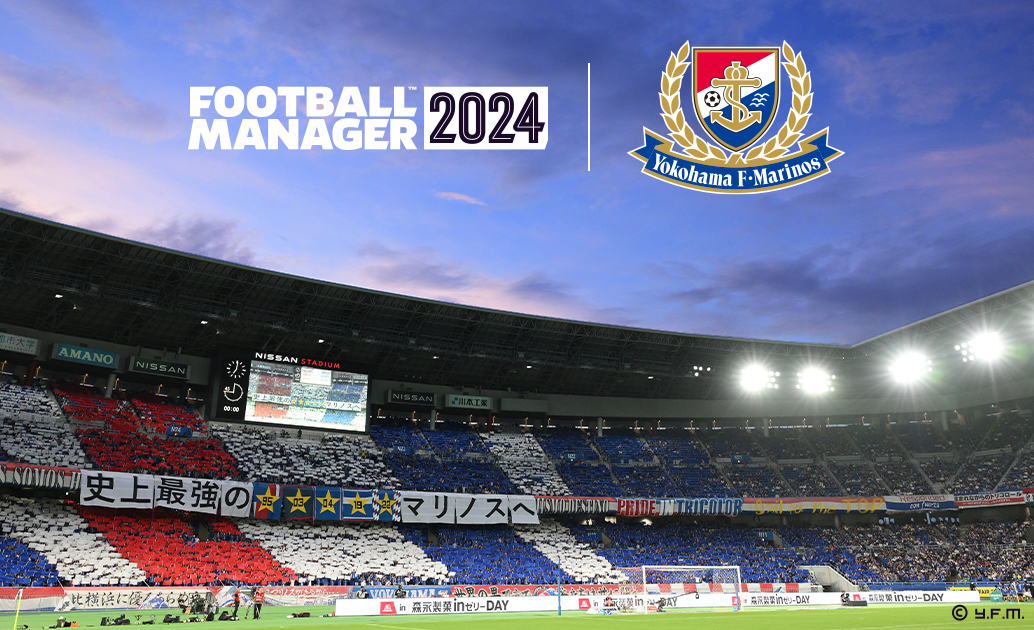 London, England – 20th November 2023 – In another momentous milestone for the studio, Sports Interactive are honoured to announce a new club partnership with Yokohama F. Marinos.
The agreement will support the studio's first official launch in Japan with Football Manager 2024 through shared content initiatives and will also see FM branding appear on club interview backdrops.
Yokohama F. Marinos are one of the J. League's original 10 founding clubs and currently the longest-serving side in the Japanese top flight. Last year, they claimed their fifth J. League championship.
Richard Trafford, Sports Interactive's Head of Business Development & Partnerships, said: "Signing this official partnership with Yokohama F. Marinos is a deeply proud moment for the studio.
"Launching FM24 in Japan is a significant milestone for us and we wanted to support that debut by extending our family of partnerships to include a Japanese club.
"Yokohama F. Marinos are fantastic on and off the pitch and we're honoured to be working with them."
Akihiro Nakayama, President of Yokohama Marinos Ltd, said: "It is my pleasure to welcome Football Manager, the world-class football management game, to the Yokohama F. Marinos family as an official partner. With the J-league debuting on their latest title, Football Manager 2024, this is a hugely exciting time for the club as it unlocks the extraordinary potential of engaging with millions of enthusiastic fans who play the game globally.
"I hope our supporters will enjoy playing Football Manager as they develop their own ultimate F. Marinos with our signature attacking style of football."
Fans around the world can play with Yokohama F. Marinos in Football Manager 2024, now available on a wide variety of platforms. More information on this year's releases is available on the official Football Manager website. [link].
-Ends-
About Sports Interactive™:
Sports Interactive (SI) is the world's leading developer of immersive sports management simulations. Founded in 1994, SI became a wholly owned subsidiary of SEGA in 2006. Based in Stratford, East London, the SI team takes on the gaming genre through a diverse array of disciplines powered by more than 290 full-time staff members and support from a large global network comprising roughly 1,400 researchers.. SI is an official partner of many major football clubs, leagues and organisations, including Manchester City, Brighton & Hove Albion, UEFA, the Bundesliga, LFP, the EFL and the League Managers Association, as well as numerous charities and not for profit organisations. Further information on the studio and its work can be found at www.sigames.com.
About Football Manager™:
Football Manager (FM) is the world's leading football management simulation title and our iconic, award-winning series has captivated a global pool of players for two decades. FM takes players to the heart of the beautiful game and lets them create their own football story and live out their dreams as manager of their favourite club. With more than 50 of the top footballing nations to manage in and a database of more than 800,000 active players and staff from around the world of football, the game offers an unrivalled simulation experience. The game tasks players with making the key decisions at their club and forces them to responsible for them including transfer recruitment, tactical development and player development. Players must navigate the pressures of modern football by meeting their owner's objectives and handle both the media and fan scrutiny that comes from performance on Matchday. FM has grown to become more than just a game and is now deeply embedded in the football industry with the FM database now powering the recruitment strategies of professional clubs around the world of football. The game has become an integral part of modern fan culture, shaping the discourse around the professional game. It has been the inspiration for several books, a stand-up comedy show and even a feature-length documentary. For more information on Football Manager, visit footballmanager.com.
About SEGA® Europe Ltd.:
SEGA® Europe Ltd. is the European Distribution arm of Tokyo, Japan-based SEGA CORPORATION, and a worldwide leader in interactive entertainment both inside and outside the home. The company develops and distributes interactive entertainment software products for a variety of hardware platforms including PC, wireless devices, and those manufactured by Nintendo, Microsoft and Sony Interactive Entertainment Europe. SEGA wholly owns the video game development studios Two Point Studios, Creative Assembly, Relic Entertainment, Amplitude Studios, Sports Interactive and HARDlight. SEGA Europe's website is located at www.sega.co.uk.
About Yokohama F. Marinos©:
With its tradition and history, Yokohama F. Marinos asserts a distinct presence as one of the best major clubs in the J.League. The name MARINOS, means "sailors" in Spanish.
The emblem is an overlay of crossing the seven seas to conquer the world, and the image of our hometown, the international port of Yokohama. We are the J.League "ORIGINAL10" founding clubs and we have been fighting in the top flight ever since. In 2021 season, the club sailed to glory and celebrated fifth J.League championship.