UNLEASH YOUR INNER DIPLOMAT IN HUMANKIND'S FIRST EXPANSION, "TOGETHER WE RULE"
"Together We Rule" is focused on Diplomacy and Espionage and introduces the Congress of Humankind, Embassies, Agents, a new Diplomatic culture affinity, plus a major free update focused on stealth and independent people coming Fall 2022.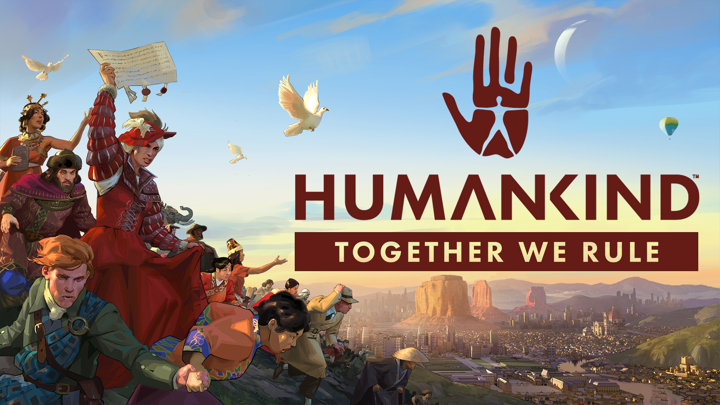 PARIS, September 7th – In HUMANKIND™, our turn-based historical strategy game, we've always wanted there to be more ways to win than simple military domination. And while the game's unified victory condition, Fame, was a first step towards that, we're now ready to take things much further with the introduction of our first major expansion, Together We Rule. New features like the Congress of Humankind, Embassies, and Agents will help players see the world in a new light and resolve conflicts differently.
TOGETHER WE RULE CONTENT
Here's a more detailed look at what's included in the Expansion:
Congress of Humankind - Get involved in an inter-empire forum with the Congress of Humankind. The congress will allow players to vote and decide on global doctrines and arbitrate international conflicts together.
Embassy - Use this new Quarter to sign agreements that are beneficial for both empires, like joint training or research agreements. Or use your Leverage currency to force an empire to take specific actions to your benefit, like lowering war support or enforcing demands.
Agents - Use this new unit family to gather Leverage. They will also allow you to infiltrate, sabotage and disinform other empires.
Diplomatic Affinity + 6 New Cultures - The new Diplomatic Affinity allows its cultures to have a more active role in the world's diplomacy.

Their Active Ability allows them to demilitarize a territory for 10 turns, while their Passive Ability allows all their units, beyond just agents, to collect Leverage.
The 6 new cultures are the Sumerians, the Han Chinese, the Bulgarians, the Swiss, the Scots, and the Singaporeans.

6 new wonders, new narrative events, new music – Monument Valley, Pamukkale, Chocolate Hills, Eldgjá, Palace of Versailles, and the Congress of Humankind Headquarters.
ADDITIONAL MAJOR FREE UPDATE
Whether players choose to opt for these new diplomatic tools or not, a massive free update for HUMANKIND™ will be released for everyone alongside the expansion pack. It will add new Stealth mechanics, revamp independent peoples, allow for third-party battle re-enforcements, and add new UI options and improvements.
Together We Rule will be coming in Fall 2022.
We hope you enjoy!
About Amplitude Studios SAS
Amplitude Studios SAS is a team of experienced, quality driven video game lovers and creators of the finest strategy games with the help of our players! Founded in 2011 and acquired by SEGA in 2016, we are a team of over 120 developers based in Paris with an international team hailing from all over the world.

Our current titles in production include HUMANKIND™, a historical strategy epic where you'll be combining cultures as you lead your people from the Ancient to the Modern Era; and Endless™ Dungeon, a squad-based rogue-lite tactical action game. We're best known for our critically acclaimed Endless™ series, played by millions worldwide, including Endless Space, Endless Legend, Dungeon of the Endless, and Endless Space 2.

Our close relationship with the community is a core feature of the studio's philosophy. We're proud of the way we create games together with our players via Games2Gether, our custom-built community platform that enables our community to play a key role in the creation of our games at every stage of development.
About SEGA Europe Limited:
SEGA Europe Limited is the European Distribution arm of Tokyo, Japan-based SEGA CORPORATION, and a worldwide leader in interactive entertainment both inside and outside the home. The company develops and distributes interactive entertainment software products for a variety of hardware platforms including PC, wireless devices, and those manufactured by Nintendo, Microsoft and Sony Interactive Entertainment Europe. SEGA wholly owns the video game development studios Two Point Studios, Creative Assembly, Relic Entertainment, Amplitude Studios, Sports Interactive and HARDlight. SEGA Europe's website is located at www.sega.co.uk
HUMANKIND_Together_We_Rule_Key_Art.jpg
JPG - 1.2 Mb
Download
HUMANKIND_Together_We_Rule__Era1.png
PNG - 3.8 Mb
Download
HUMANKIND_Together_We_Rule_Era2.png
PNG - 4.0 Mb
Download
HUMANKIND_Together_We_Rule_Era3.png
PNG - 3.8 Mb
Download
HUMANKIND_Together_We_Rule_Era4.png
PNG - 3.8 Mb
Download
HUMANKIND_Together_We_Rule_Era5.png
PNG - 4.2 Mb
Download
HUMANKIND_Together_We_Rule_Era6.png
PNG - 4.6 Mb
Download
HUMANKIND_Together_We_Rule_Fact_Sheet.pdf
PDF - 506 Kb
Download
HUMANKIND_Together_We_Rule_WhatsNext-2022.jpg
JPG - 1.1 Mb
Download