TWO POINT CAMPUS HITS 1 MILLION PLAYER MILESTONE JUST TWO WEEKS AFTER LAUNCH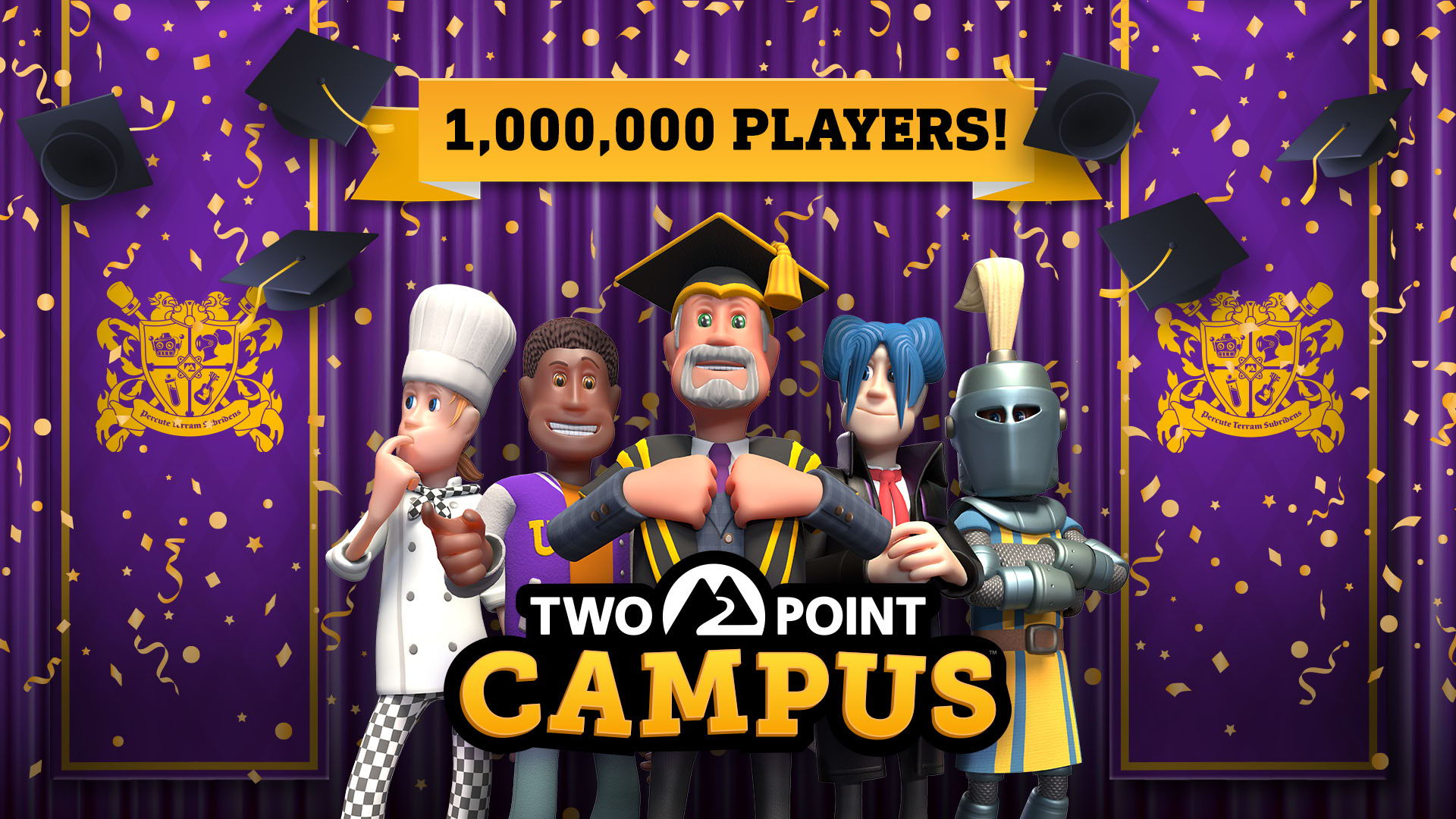 Two Point Campus™ graduates with a first-class degree after hitting a huge one million players just two weeks after launch.
Offering bags of charm and tongue-in-cheek comedy, the critically acclaimed management sim from SEGA Europe and Two Point Studios surpassed the milestone even faster than its much-loved predecessor, Two Point Hospital.
Mark Webley, Studio Director at Two Point Studios, said: "Two Point Campus was such a thrill to create so we're ecstatic to see so many people enjoying the game as much as they do! We had high hopes that we had created something that fans would love, but the response has exceeded all expectations! We'd like to send a massive thank you to all of the players out there who are showing support by building their wild and wonderful campuses – we can't wait to see what more you'll create."
Gary Carr, Studio Director at Two Point Studios, said: "We had big shoes to fill following the success of Two Point Hospital, so it feels particularly sweet to hit one million players even faster than before. And this is just the beginning, just as we did with Hospital, we'll be continuously supporting Campus with lots of quality of life updates and other features, plus we have lots of exciting new ideas and plans for the future of Two Point Campus, which we can't wait to share with all of the players out there soon!"
Two Point Campus is a charming university management simulator that tasks players with building and running the university campus of their dreams. From designing stylish dormitories to laying down ornamental pathways and gardens, players are given the freedom to pimp their Campus with new and easy-to-use creative tools to build their own educational masterpiece.
With plenty of fun and fantastical courses for players to explore, they must provide their students and teachers with everything they need to help them thrive and survive in the academic year. Two Point Campus is available now on PC, PlayStation 4|5, Xbox One, Xbox Series X|S, and Nintendo Switch. Two Point Campus is also available on Xbox Game Pass for console and PC Game Pass.
It's also a great time for new players to get into the series, as Two Point Campus' outstanding predecessor Two Point Hospital is currently on sale on Steam for 50% off, with further discounts available for its DLC with up to 50% off. The sale starts today at 18:00 BST and ends on Monday 5th September 18:00 BST. For more information about Two Point Campus head to www.twopointcampus.com.You can follow the game on Instagram, Facebook, YouTube, and Twitter. 
---