TOTAL WAR™: WARHAMMER® III OUT NOW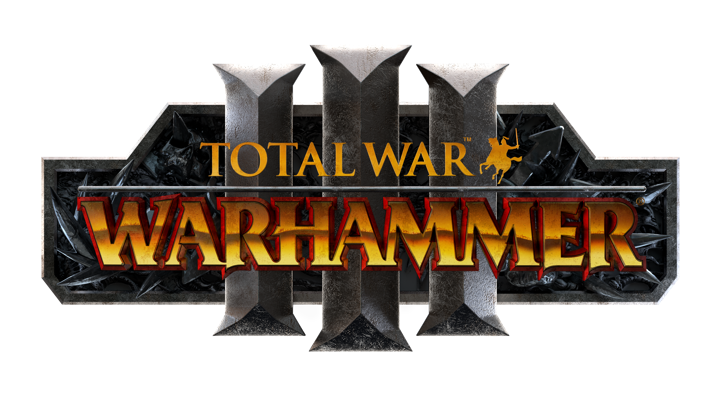 SEGA Europe Limited and The Creative Assembly™ Limited are proud to announce the launch of Total War™: WARHAMMER® III for Windows PC. A game of mind-blowing proportions that marks a fresh evolution for the beloved Total War franchise, WARHAMMER III is based on the renowned Warhammer Fantasy Battle tabletop wargame from Games Workshop®.
Watch the launch trailer here: https://youtu.be/8w_xeRJfwc0
WARHAMMER III plunges players into a cataclysmic power struggle between mortals and daemons with each aiming to save or exploit the power of a dying god. Featuring seven diverse playable races - including the video-game debuts of Grand Cathay and Kislev - alongside ground-breaking new features such as the Realm of Chaos campaign, eight-player multiplayer, and the customisable RPG-like Daemon Prince Legendary Lord.
Alongside these lands the Prologue campaign, a new Total War experience, perfect for brand-new players and those requiring a refresher course on the mechanics of the game. Within this mode, players will learn basic and advanced techniques of generalship and engage in a narrative experience that leads into the main campaign.
"We are incredibly proud to have created one of the most comprehensive grand strategy experiences in Total War history," said Game Director Ian Roxburgh. "This might be the final game in the trilogy, but it's only the beginning of Total War: WARHAMMER III's immortal journey".
Also, out now for WARHAMMER III is the Ogre Kingdoms Race Pack, unleashing two additional Legendary Lords into the game on day one. Players can lead an army of colossal warriors and primeval monsters in search of plunder, gold, and meat for their insatiable bellies. As an early-adopter bonus, this content will be free for the first week to all owners of WARHAMMER III. Additionally, PC Game Pass subscribers who link their Microsoft and Total War Access accounts within the same timeframe can also join the feasting and warring. See the FAQ here for more details.
With over 37 million Total War games sold to date, and over 1.5 million monthly active players, WARHAMMER III launches at the pinnacle of the series' popularity. Developer Creative Assembly is now the largest studio in the UK and continues to grow, with multiple new titles under development.
For more information about WARHAMMER III visit the Total War FAQ. Purchase directly from the developers at the Total War: WARHAMMER III store, the Microsoft Store, Steam, Epic Games Store or play it now with Xbox PC Game Pass.
###
About Total War™
With more than 37.8 million copies sold, Total War is one of the most established and critically acclaimed series in gaming. A drive for historical authenticity and superb gaming quality has helped establish the franchise as one of the most successful PC games of all time. Alongside the core historical-based games, the Total War series has expanded to include free-to-play mobile (Total War Battles™: KINGDOM), fantasy epics (Total War™: WARHAMMER®), and historical snapshots (Total War Saga™: THRONES OF BRITANNIA). www.totalwar.com
About The Creative Assembly™ Ltd.
The Creative Assembly Ltd. is one of Europe's leading games development studios, founded in 1987 and located in West Sussex, UK and in Sofia, Bulgaria. With a heritage of award-winning AAA titles, including the multi-million selling Total War™ series, Creative Assembly continues to build an impressive portfolio of games and world-renowned partnerships; working with Games Workshop on Total War™: WARHAMMER®, Twentieth Century Fox on Alien: Isolation, plus 343 Industries and Microsoft on Halo Wars 2. Creative Assembly has, with their exceptionally talented team of over 700, amassed a wealth of awards, including multiple Best Place to Work awards and recent accolades from BAFTA, Music+Sound and Develop's Industry Excellence awards. www.creative-assembly.com
About SEGA® Europe Limited.
SEGA Europe Limited. is the European Distribution arm of Tokyo, Japan-based SEGA CORPORATION, and a worldwide leader in interactive entertainment both inside and outside the home. The company develops and distributes interactive entertainment software products for a variety of hardware platforms including PC, wireless devices, and those manufactured by Nintendo, Microsoft and Sony Interactive Entertainment Europe. SEGA wholly owns the video game development studios Two Point Studios, Creative Assembly, Relic Entertainment, Amplitude Studios, Sports Interactive and HARDlight. SEGA Europe's website is located at www.sega.co.uk.
About Games Workshop®
Games Workshop® Group PLC (LSE:GAW.L), based in Nottingham, UK, produces the best fantasy miniatures in the world. Games Workshop designs, manufactures, retails, and distributes its range of Warhammer®: Age of Sigmar® and Warhammer® 40,000® games, miniatures, novels and model kits through more than 523 of its own stores (branded Warhammer®), the www.games-workshop.com web store and independent retail channels in more than 50 countries worldwide. More information about Games Workshop and its other, related, brands and product ranges (including our publishing division 'Black Library' and our special resin miniatures studio 'Forge World') can be found at www.games-workshop.com
© Copyright Games Workshop Limited 2022. Warhammer, the Warhammer logo, GW, Games Workshop, The Game of Fantasy Battles, the twin-tailed comet logo, and all associated logos, illustrations, images, names, creatures, races, vehicles, locations, weapons, characters, and the distinctive likeness thereof, are either ® or TM, and/or © Games Workshop Limited, variably registered around the world, and used under licence. Developed by Creative Assembly and published by SEGA. Creative Assembly, the Creative Assembly logo, Total War and the Total War logo are either registered trademarks or trademarks of The Creative Assembly Limited. SEGA and the SEGA logo are either registered trademarks or trademarks of SEGA CORPORATION. SEGA is registered in the U.S. Patent and Trademark Office. All other trademarks, logos and copyrights are property of their respective owners.