TOTAL WAR™: PHARAOH RELEASE DATE ANNOUNCED
ALONGSIDE CAMPAIGN MAP REVEAL, EARLY ACCESS DETAILS AND MORE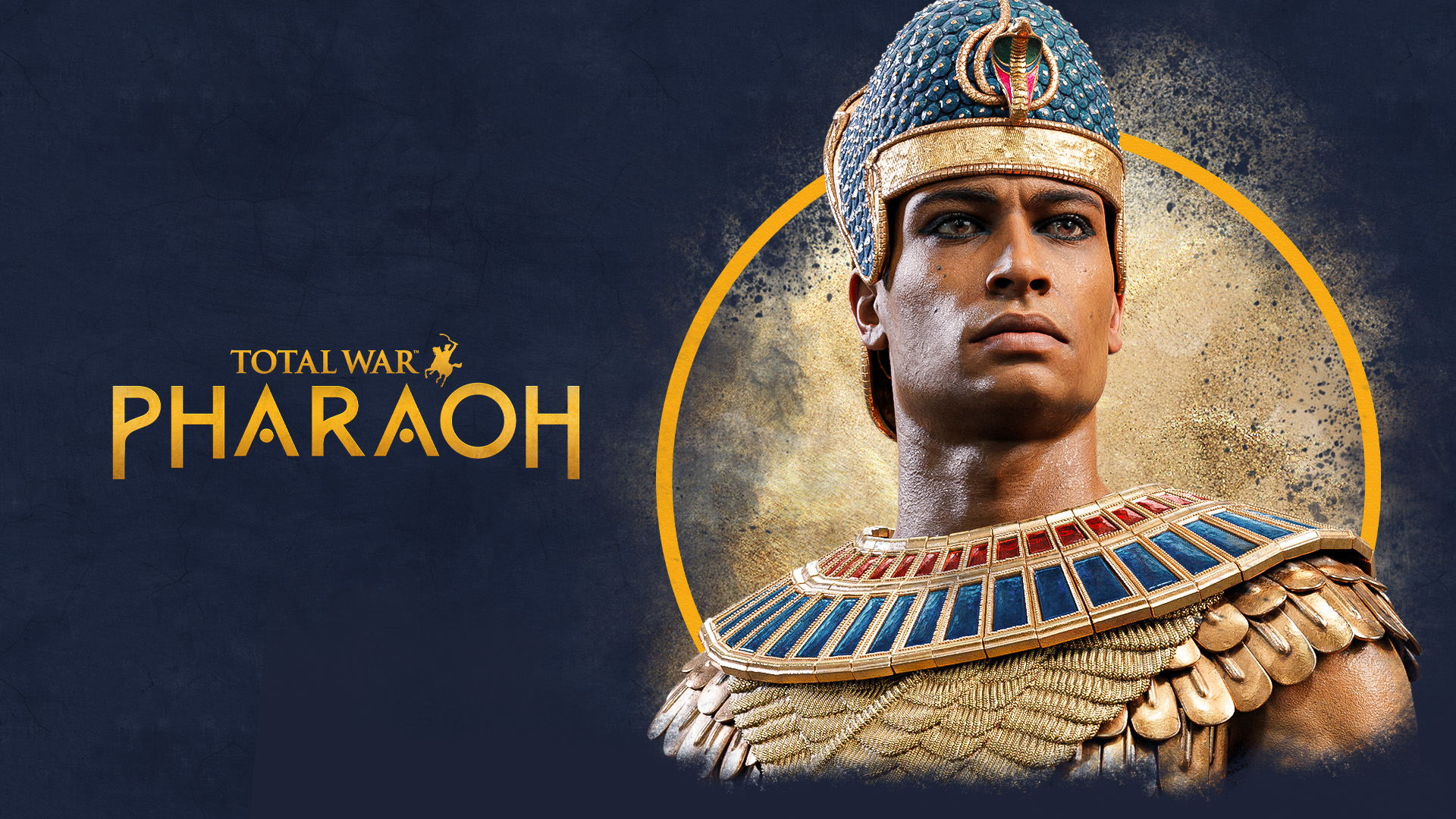 LONDON – September 12th, 2023 – SEGA® Europe Limited and The Creative Assembly Limited have today announced that Total War™: PHARAOH will be releasing digitally the 11th October 2023, with a physical Limited Edition releasing in Europe on October 23rd 2023. The adorned Limited Edition will include cosmetic packs and a double-sided poster featuring a stylised campaign map and portraits of the iconic faction leaders.
Embark on a voyage through the bloodstained beauty of Ancient Egypt in this map reveal video.
CONQUER ANCIENT EGYPT AND SURVIVE THE APOCALYPSE
Total War: PHARAOH is the next instalment in the award-winning strategy game franchise from Creative Assembly. Within it, players will immerse themselves within the turbulent events of the Egyptian New Kingdom period where they'll determine the fate of three great cultures – the Egyptians, the Hittites, and the Canaanites – as they fight for survival amid the cataclysmic Bronze Age collapse.
EARLY ACCESS WEEKEND DETAILS
By pre-ordering now, players can gain access to a PHARAOH's trove of early-adopter bonuses including the ability to take part in an Early Access Weekend, the Avatar of the Gods Cosmetic Pack, and the Heart of the Shardana Cosmetic pack.
The Early Access Weekend allows players to venture into the breath-taking world of Ancient Egypt from Friday, 29th September to Monday 2nd October. The prestigious Ramesses and the barbaric Irsu will be at their command as you wage war across 60 turns of strategic campaign gameplay with unlimited replays available within the timeframe.
For more information regarding the early-adopter bonuses, please visit the Total War: PHARAOH FAQ. Pre-order directly from the developers at the Total War: PHARAOH store, Steam, or the Epic Games Store.
SYSTEM SPECIFICATIONS
| | |
| --- | --- |
| Minimum | Recommended |
| OS: Windows 10 64-Bit ​ | OS: Windows 10 64-Bit ​ |
| Processor: Intel i3-2100 / AMD FX-4300 ​ | Processor: Intel i5-6600/Ryzen 5 2600X ​ |
| Memory: 6GB | Memory: 8GB ​ |
| Graphics: Nvidia GeForce GTX 660 / AMD R9 270 | Graphics: Nvidia GeForce GTX 1660 Ti / AMD RX 480 ​ |
| DirectX: Version 11 ​ | DirectX: Version 11 ​ |
| Storage: 50GB available space | Storage: 50GB available space |
|   |   |
Total War: PHARAOH - KEY FEATURES:
Strategy Gameplay: Total War: PHARAOH is a game of two halves. One a turn-based open-world campaign with statecraft, diplomacy and exploration and the other intense, tactical real-time battles with thousands of troops across vivid Bronze Age battlefields.
Events Inspired By History: Experience an authentic recreation of Ancient Egypt and witness the death of Pharaoh Merneptah as you prepare your people to stand against the civilisation defining events of the Bronze Age collapse.
Diverse Playstyles: Wage war with three unique Bronze Age Cultures; the Egyptians, Hittites and Canaanites and choose one of their historical leaders to command your armies. Charm the courts as peerless diplomats, charge into battle as unwavering commanders or cause chaos as fearless warlords.
Conquer The Bronze Age: Prove your legitimacy to become Pharaoh, or Great King, and expand your growing empire on a campaign map that spans the rich cultural hubs of Egypt, Canaan and Anatolia.
Near-Infinite Possibilities: With a brand-new Campaign Customisation feature, no two campaigns will ever feel the same. Determine how you play with an extended range of options, such as random starting positions for all factions, detailed resource settings, the ability to toy with natural disasters and much more.
Dynamic Weather: Lead your soldiers through sudden and dramatic shifts in weather, such as torrential rain and sandstorms, and witness the tides of battle turn as it directly impacts the surrounding terrain.
Worship The Gods: Pledge your allegiance to the gods of this ancient world with nineteen deities to choose from, spread across each of the cultural pantheons. Show enough reverence to earn gameplay bonuses but disrespect them at your peril.
And Much More: Emulate the deeds of past Pharaohs, customise your bodyguard, embark on grand sieges, manipulate the courts, fight back against the mysterious Sea Peoples invaders and much more.
For more information about Total War: PHARAOH and the other Total War games in development, visit the Total War or Total War: PHARAOH website and follow us on Facebook and Twitter. Subscribe to Total War's Youtube Channel for future news about gameplay videos.
###
About Total War™:
With more than 42.5 million copies sold, Total War is one of the most established and critically acclaimed series in gaming. A drive for historical authenticity and superb gaming quality has helped establish the franchise as one of the most successful PC games of all time. Alongside the core historical-based games, the Total War series has expanded to include free-to-play mobile (Total War Battles™: KINGDOM), fantasy epics (Total War™: WARHAMMER®), and historical snapshots (Total War Saga™: THRONES OF BRITANNIA). www.totalwar.com
About The Creative Assembly™ Limited.
The Creative Assembly Limited is one of Europe's leading games development studios, founded in 1987 and located in West Sussex, UK and in Sofia, Bulgaria. With a heritage of award-winning AAA titles, including the multi-million selling Total War™ series, Creative Assembly continues to build an impressive portfolio of games and world-renowned partnerships; working with Games Workshop on Total War™: WARHAMMER®, Twentieth Century Fox on Alien: Isolation, plus 343 Industries and Microsoft on Halo Wars 2. Creative Assembly has, with their exceptionally talented team of over 700, amassed a wealth of awards, including multiple Best Place to Work awards and recent accolades from BAFTA, Music+Sound and Develop's Industry Excellence awards. www.creative-assembly.com
About SEGA Europe Limited:
SEGA Europe Limited is the European Distribution arm of Tokyo, Japan-based SEGA CORPORATION, and a worldwide leader in interactive entertainment both inside and outside the home. The company develops and distributes interactive entertainment software products for a variety of hardware platforms including PC, wireless devices, and those manufactured by Nintendo, Microsoft and Sony Interactive Entertainment Europe. SEGA Europe wholly owns the video game development studios Two Point Studios, Creative Assembly, Relic Entertainment, Amplitude Studios, Sports Interactive and HARDlight. SEGA Europe's website is located at www.sega.co.uk
---
Assets
​​
​Static Assets including Art, Screenshots and Physical SKUs - https://sega-press.com/download/315773/fcfea3412d490a76ed31c9381f5f484ab2a1e18d
Map Reveal Videos:
UK PEGI: https://sega-press.com/download/315908/a31c8054e1c46fc6a05982ea9e1c22e2d68364f6