THE RACE IS ON ❗
Two Point Hospital: Speedy Recovery DLC coming to Steam and Microsoft Store on 15th March 2022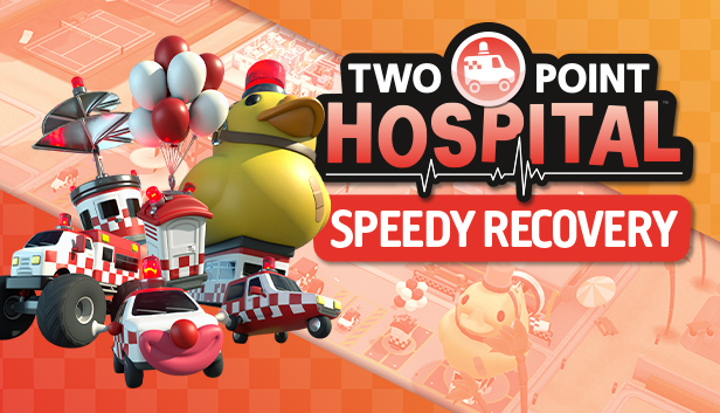 London, England – 1 March 2022 – The wonderful people of Two Point County require urgent assistance, but the traditional ways are no match for the perils of today. SEGA Europe Limited and Two Point Studios™ Limited can confirm that the new expansion 'Speedy Recovery' is coming to the rescue for Two Point Hospital™ on 15 March 2022 for £6.99. Speedy Recovery is available for pre-purchase now for PC on Steam and the Microsoft Store with a pre-purchase discount of 10% until 15 March 2022.
In Two Point Hospital: Speedy Recovery players will experience a new and exciting game mode, as they take command of an extraordinary fleet of innovative and unorthodox ambulances, designed for every and any emergency. As incidents pop up via a new 'Dispatch' button, players must use their ever-growing and improving ambulance squad to deliver patients to hospitals all over Two Point County, while also curing their ailments.
Race past new and familiar Two Point locations, from the cold and wintery Pointy Mountains to the tropical islands of Pebberley Island in an effort to pick up sick patients. Go the extra mile and dispatch shiny new road ambulances like the Big Healer or avoid bad traffic by calling in the Airloovator and fly your patients to safety. Make sure to step it up a gear when competing against rival hospitals, as they have their own pimped up fleet of ambulances. In this business it pays to get there first!
Two Point Hospital: Speedy Recovery will explore three new locations and features three new, fully animated treatment rooms. Discover all 19 new illnesses (six visual), like Under the Weather, Hive Mind and Snow Problem, and make use of new curing machines, like the Honey Trap, to get patients back on the road to recovery. The new expansion also comes with a range of flashy new items, like an Ambulance Racetrack, Rainbow Arches, a Duck Bin, and many more!
For more information about all things Two Point Hospital sign up for the Hospital Pass newsletter at www.twopointhospital.com where you will receive the coveted in-game item, the Golden Bathroom Suite. Follow the game on YouTube, Facebook and Twitter. For more information about Two Point Campus, head to twopointcampus.com, where you'll be able to pre-order the game for PC and consoles and receive exclusive in-game items for Campus and Hospital. For all things SEGA Europe, log on to www.sega.co.uk and follow us on Facebook, Instagram, YouTube , Twitch or on Twitter.
---
About Two Point Studios Limited:
Two Point Studios Limited is a British game developer, based in Farnham, Surrey (UK) and was founded in 2016. Two Point Studios' small, but dedicated and passionate team have worked on some of the most recognisable brands in gaming, including Fable and Black and White. Drawing on that experience, Two Point Studios released a brand-new IP in the sim genre called Two Point Hospital, which launched for PC in August 2018. For more information about Two Point Studios visit www.twopointstudios.com. ​ 
About SEGA Europe Limited.:
SEGA Europe Limited is the European Distribution arm of Tokyo, Japan-based SEGA CORPORATION, and a worldwide leader in interactive entertainment both inside and outside the home. The company develops and distributes interactive entertainment software products for a variety of hardware platforms including PC, wireless devices, and those manufactured by Nintendo, Microsoft and Sony Interactive Entertainment Europe. SEGA wholly owns the video game development studios Two Point Studios, Creative Assembly, Relic Entertainment, Amplitude Studios, Sports Interactive and HARDlight. SEGA Europe's website is located at www.sega.co.uk
---
ASSETS
YouTube url: https://youtu.be/PK40O63jPJo
MP4 video: https://sega-press.com/download/289114/68da62646fc098c9e1945e93ad727982bb8c992e
Keyart in different sizes: https://sega-press.com/download/289120/491e6d9582b858064bf9aceada7aa3b4f7eb44dd
3 GIFS: https://sega-press.com/download/289119/8a9a2e7bd1bafd201e9cf4e3ac050e4ad3df1d32
Screen shots: https://sega-press.com/download/289118/d613f97f8bd2be8633ae34e5dca1b98a7099c9aa