SAY HELLO TO SPRING WITH THE HUMANKIND™ HOLI EVENT, STARTING MARCH 17th
Plus, an additional free update has been announced for late April which will tackle notifications, religion, and affinity balancing.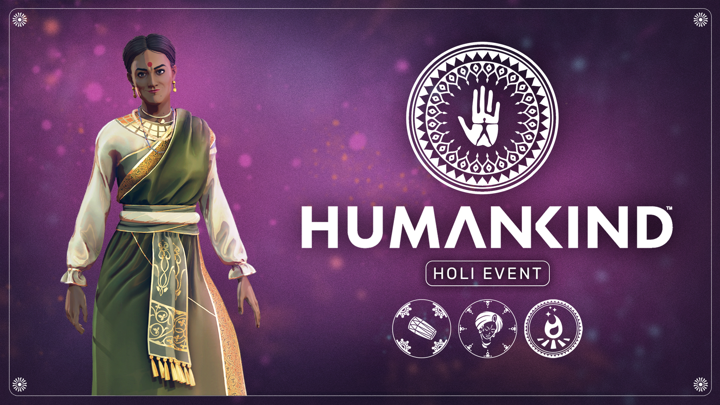 Paris, March 17th -- Celebrated in the Indian subcontinent where it originated and across the world, the Holi Festival welcomes the coming of Spring under auspices of love, forgiveness, and spiritual purification.
One of the oldest recorded Hindu festivals, Holi is teeming with symbols: bonfires are lit to represent the victory of good over evil, and enormous crowds gather to engage in song, dance, and the characteristic battles with colored powders. Besides its many cultural references, Holi is recognized at its core as a celebration of love, life, friendship, and the many different colors of humankind.
Complete the following in-game challenges and earn exclusive Symbols, Decorations, and the astute ruler and warrior Nayakuralu Nagamma for your Persona collection!
Shrewd General - Force an Expansionist Empire that has Vassals to Surrender.
Famous - Accumulate 40 000 Fame over several games.
Smite the Wicked - Earn a level 3 Hero badge while playing as the Mughals.
The event will end on April 11th, and a 2nd chapter with 3 additional challenges will be revealed on March 24th.
"VITRUVIAN" UPDATE ANNOUNCED
We're also very excited to announce the next free patch for HUMANKIND™, which will come at the end of April. We'll be addressing a few big community demands, notably the ability to customize which notifications you see in game. We'll also be doing a balancing pass on culture affinities, making changes to religion, to sieges, and, as always, squashing bugs!
We'll be giving more detail in the coming weeks, so be sure to follow along via Games2Gether.
Happy Spring!
The Ampliteam