RE-IMAGINE HISTORY IN HUMANKIND'S FIRST EVER FREE WEEKEND
Then keep the game forever for 50% off. Plus, pre-purchase is now available for our first expansion Together We Rule, which will release on November 9th.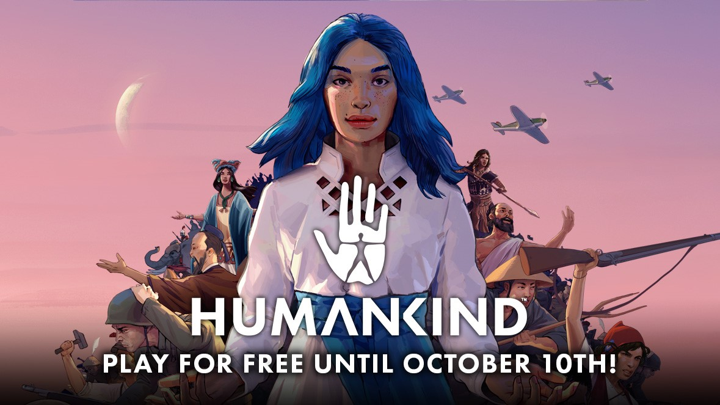 Paris, October 6th, 2022 – Got any plans this weekend? Well, why not plan to re-imagine a world where the Harappans survived to dominate the Industrial Era? Or perhaps one where the Brazilians were the first to land on the moon? With HUMANKIND™ and its 61 cultures available for free from now through Monday, the possibilities are endless! And who knows, if you enjoy yourself, you may even want to grab the game at 50% off as part of the SEGA Megamix Sale.
To our tried and tested players: we've got news for you too! Our very first expansion, Together We Rule is available for pre-purchase with a 10% off discount. The expansion will release on November 9th along with a major free update. More details are below.
PLAY HUMANKIND FOR FREE ON STEAM THIS WEEKEND
If you've been hesitant to take the plunge, now is the perfect time to test HUMANKIND™, our turn-based historical strategy game where you combine cultures to create your own civilization, for free on Steam.
The game will also be 50% off, as well as discounts of up to 33% on additional Culture Packs. Play for free here: https://store.steampowered.com/app/1124300/HUMANKIND/
GET 10% OFF BY PRE-PURCHASING TOGETHER WE RULE
Pre-purchase and a release date are now up for our diplomacy-focused expansion Together We Rule. Here's a refresher on the contents:
Congress of Humankind - Get involved in an inter-empire forum with the Congress of Humankind. The congress will allow players to vote and decide on global doctrines and arbitrate international conflicts together.
Embassy - Use this new Quarter to sign agreements that are beneficial for both empires, like joint training or research agreements. Or use your Leverage currency to force an empire to take specific actions to your benefit, like lowering war support or enforcing demands.
Agents - Use this new unit family to gather Leverage. They will also allow you to infiltrate, sabotage and disinform other empires.
Diplomatic Affinity + 6 New Cultures - The new Diplomatic Affinity allows its cultures to have a more active role in the world's diplomacy.

Their Active Ability allows them to demilitarize a territory for 10 turns, while their Passive Ability allows all their units, beyond just agents, to collect Leverage.
The 6 new cultures are the Sumerians, the Han Chinese, the Bulgarians, the Swiss, the Scots, and the Singaporeans.

6 new wonders, new narrative events, new music – Monument Valley, Pamukkale, Chocolate Hills, Eldgjá, Palace of Versailles, and the Congress of Humankind Headquarters.
FREE "METTERNICH" UPDATE ALSO COMING NOVEMBER 9th
Whether you decide to opt for the expansion or not, a big free update is headed your way the same day. The "Metternich" update will add new Stealth mechanics, revamp independent peoples, allow for third-party battle re-enforcements, and add new UI options and improvements.
Together We Rule will cost $19.99/€19.99/£15.99 at release, with a 10% discount applicable now through November 9th. It's coming to Steam, Epic Games Store, and the Microsoft Store.
We hope you enjoy!

- the Ampliteam