PLAY TWO POINT CAMPUS FOR FREE ON STEAM RIGHT NOW!
Cupid comes to campus in Two Point's Valentine's Day update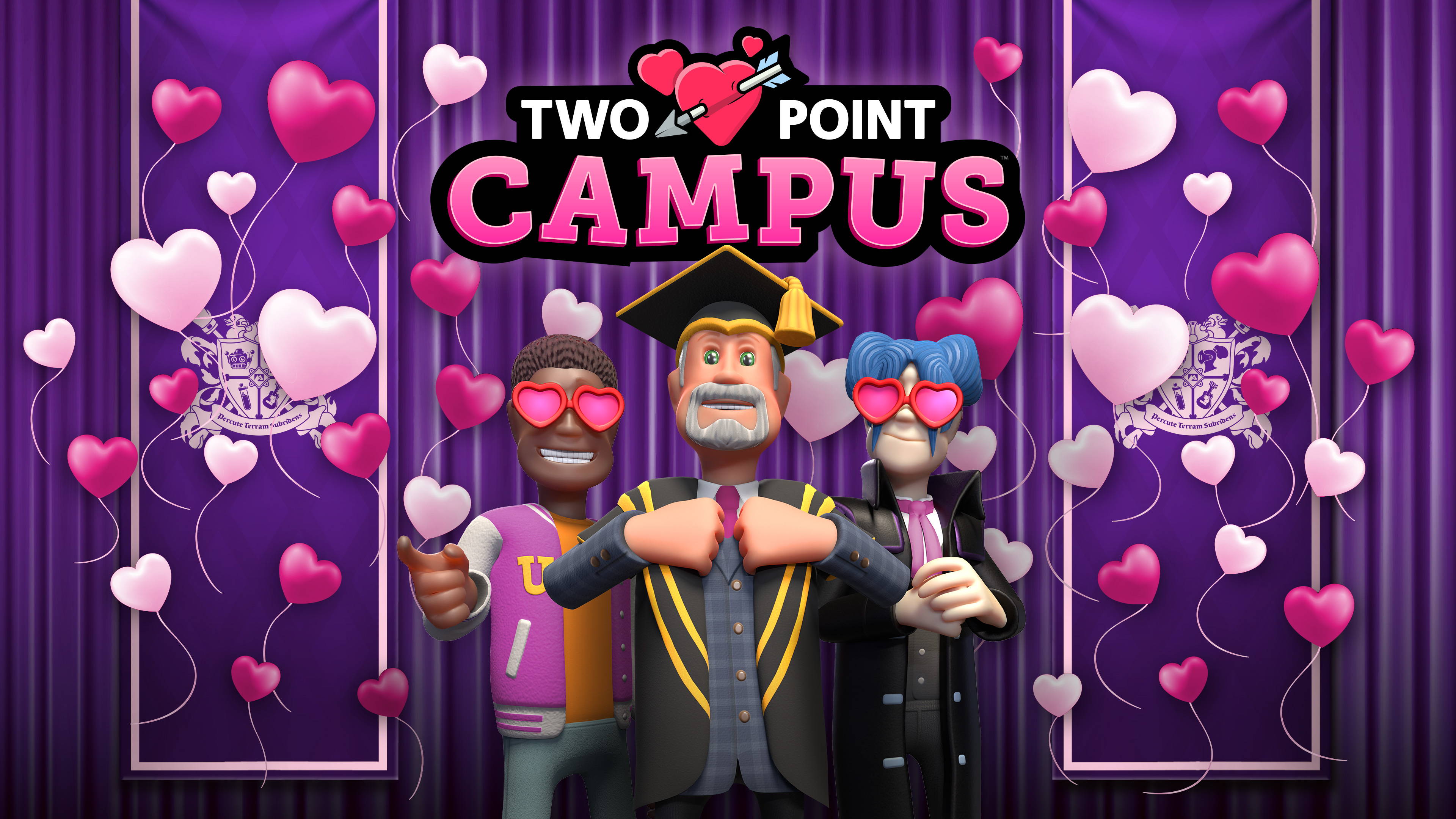 Everyone knows college is the one of the best ways to receive an education – especially an education in love. Good news for all you heartthrobs out there. Cupid is dropping some L-bombs on Two Point Campus this February, and he's brought a quiver full of new items, and a brand-new challenge mode level. If you've yet to start your love affair with Two Point Campus, you can play the game for free on Steam right now until Monday 13th February.
We're spreading the love this Valentine's with a dreamy new collection of items and decorations. There are balloons to brighten up each room, a new vase to store all your love confessions in, a comfy duvet for two, and the always-enticing tunnel of love to get your smooch on. Best of all, Cupid himself will visit your campus, and if he's suitably impressed with your work, he'll leave behind some of his "Love Bombs" that will whip up your students into a romantic frenzy. Sounds spicy.
Even if you can't celebrate Valentine's with Two Point Campus, all items and the challenge mode will stick around after the event ends. Two Point Campus is a charming university management simulator that tasks players with building and running the university campus of their dreams. From designing stylish dormitories to laying down ornamental pathways and gardens, players are given the freedom to pimp their Campus with new and easy-to-use creative tools to build their own educational masterpiece.
With plenty of fun and fantastical courses for players to explore, they must provide their students and teachers with everything they need to help them thrive and survive in the academic year. Two Point Campus is available now on PC, PlayStation 4|5, Xbox One, Xbox Series X|S, and Nintendo Switch. Two Point Campus is also available on Xbox Game Pass for console and PC Game Pass.
Two Point Campus is currently 30% off on all available platforms. For more information about Two Point Campus head to www.twopointcampus.com. You can follow the game on Instagram, Facebook, YouTube, and Twitter. 
ASSETS
Screen shots: https://sega-press.com/download/294482/1ec6749ed3cde387d6638a270f98eb817ef09373
GIFS: https://sega-press.com/download/294531/c04d8266b32e58839c7654c8016edc2db54b7b0c ​
MP4 video PEGI: https://sega-press.com/download/294529/795e3bcfc054b65cdf77000f66b32111fa15e328
Key art/logo: https://sega-press.com/download/294528/5e76f3c5295e9118d7eaefb403afc2676a73c717