NEW YEAR, NEW YORK: BE THE FIRST TO PLAY HYENAS' NEW MAP

HYENAS is offering PC players the chance to #JoinThePack and be the very first to test brand-new Plundership map 'We Took Manhattan' this weekend.
A celebration of all things New York, 'We Took Manhattan' is the brand-new playground offered in Alpha 1.11, which opens its doors at 17:00 GMT on Friday 20th January and ends at 09:00 GMT on Monday 23rd January. From Wall Street signs to the Brooklyn Bridge, see how many New York references you can spot below:
'We Took Manhattan' offers more compact Plundership combat than the previous Alpha map 'Greed is Good', keeping experienced Hyenas crews on their toes as they zip across the ship in search of Merch and rival teams.
The big centrepiece of the map is none other than the iconic Statue of Liberty. Found in its new HYENAS home of Liberty Hall, a cavernous area that also serves as the main thoroughfare for the Plundership, it's a stunning backdrop that offers tactical cover and strategic opportunities for crews fighting around the famous landmark.
Around the edges of the map are four large cargo modules, where CLOUT's gig workers process the salvaged Merch to make it ready for retail. These allow players to use their ZERO-G skills to best suit their personal combat tactics. All cargo modules have their own unique landmark offering different cover and combat opportunities.
'We Took Manhattan' is the perfect retail experience for Mars Elites who hunger for that New York vibe and Merch while building up their CLOUT status points with their purchases.
There's more good news for HYENAS players who want to plan ahead, as we can also reveal the next four Alpha tests dates in the months to come, with plenty of surprises in store for returning players.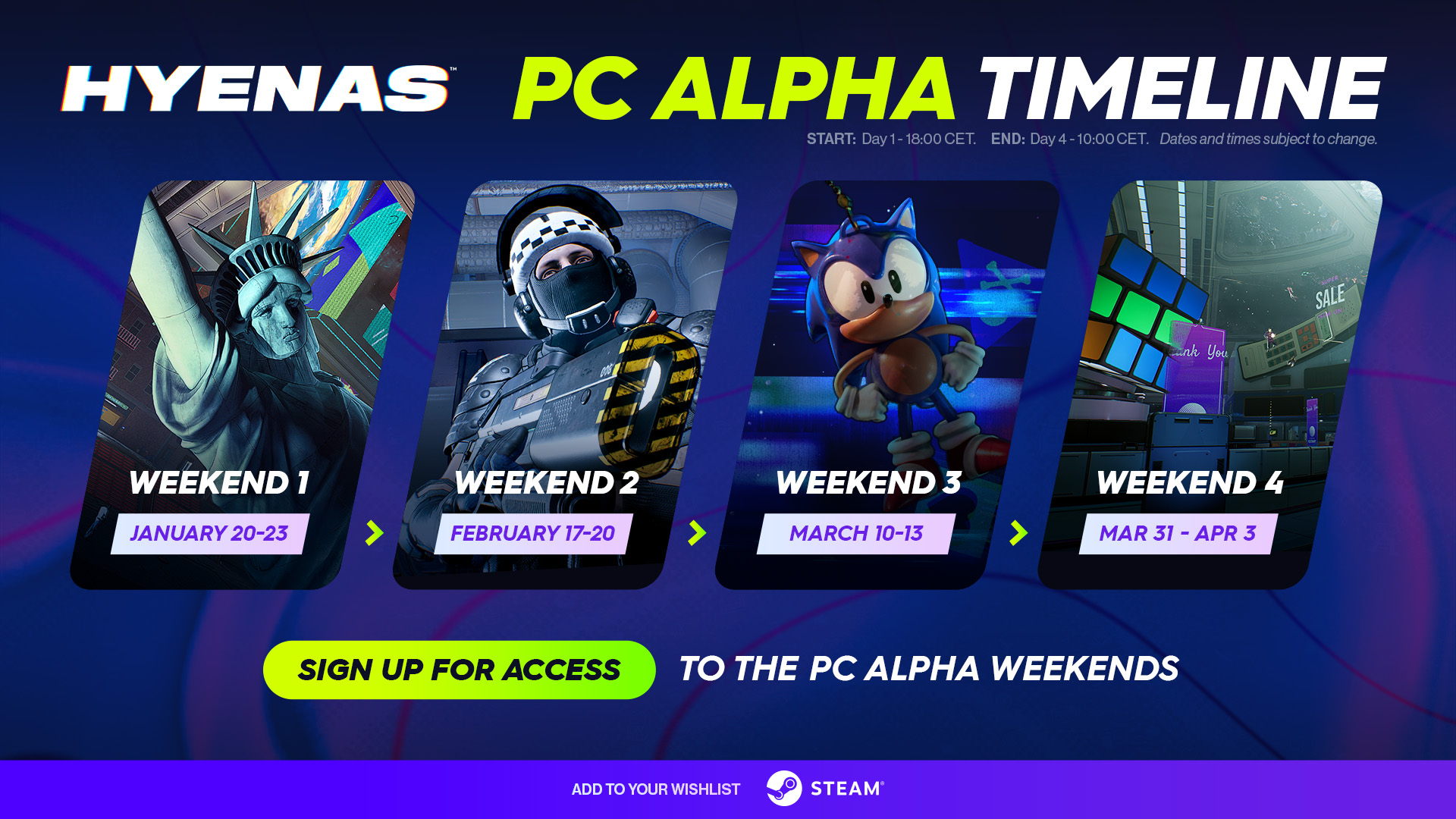 All Alpha players will get a chance to share their feedback and shape development of the extraction shooter via the bustling HYENAS Discord. "The HYENAS Alpha community are a bunch of eclectic misfits, just like the Hyenas themselves," said Kirk, HYENAS Senior Community Manager.
​​
​"Hailing from all kinds of gaming and social backgrounds you won't find the FPS stereotypes here. We have an environment that's welcoming, friendly, and filled with people eager to show newbies the ins and outs of zero-g heisting.
It's awesome to see the community grow as HYENAS smashes into the FPS landscape, and we're excited to give away more goodies, run more events, and make more memes with you all."
PC players interested in joining HYENAS Alpha tests can sign up now at PlayHyenas.com. HYENAS is available for wishlist on Steam.
###
About Creative Assembly™:
Creative Assembly is one of Europe's leading games development studios, founded in 1987 and located in West Sussex, UK and in Sofia, Bulgaria. With a heritage of award-winning AAA titles, including the multi-million selling Total War™ series, Creative Assembly continues to build an impressive portfolio of games including the newly announced first person shooter HYENAS and through world-renowned partnerships; with Games Workshop on Total War™: WARHAMMER®, Twentieth Century Fox on Alien: Isolation, plus 343 Industries and Microsoft on Halo Wars 2. Creative Assembly has, with their exceptionally talented team of over 800, amassed a wealth of awards including multiple Best Place to Work awards and accolades from BAFTA, Music+Sound and Develop's Industry Excellence awards. www.creative-assembly.com
About SEGA Europe Limited:
SEGA Europe Limited is the European Distribution arm of Tokyo, Japan-based SEGA CORPORATION, and a worldwide leader in interactive entertainment both inside and outside the home. The company develops and distributes interactive entertainment software products for a variety of hardware platforms including PC, wireless devices, and those manufactured by Nintendo, Microsoft and Sony Interactive Entertainment Europe. SEGA wholly owns the video game development studios Two Point Studios, Creative Assembly, Relic Entertainment, Amplitude Studios, Sports Interactive and HARDlight. SEGA Europe's website is located atwww.sega.co.uk