MEET COMRADE, ENDLESS™ DUNGEON'S RESIDENT GUNSMITH AND GET DUNGEON OF THE ENDLESS™ FOR FREE
The new hero reveal comes as a part of ENDLESS™ SUMMER, Amplitude's community celebration from July 24th – 27th, when our previous game Dungeon of the ENDLESS™ is available for free to keep on Steam!
PARIS July 24th – Our annual community celebration ENDLESS™ SUMMER is now live via our Twitch channel! For the next four days we will be dropping news, updates, streams, freebies and more as we celebrate another great year of collaborating with the best community in the ENDLESS™ Universe.
We're kicking things off with the 5th installment of our ENDLESS™ Dungeon Hero Reveal series, introducing the eclectic band of characters that will be at your side when you face the dungeon in our upcoming roguelite tactical action game, releasing October 19th on PC and console.
MEET COMRADE
Comrade Oruz is a Remnant - an artificial being created to serve the mysterious ancient beings known as Endless. Remnants bore the formal title of "Bailiff" but were used to execute any sort of task -- and, rumors had it, any sort of creature, being little better than glorified assassins. After events on the Station left Oruz 'out of commission', they had little to do for millennia but wait to be repaired -- and think, quite extensively, about everything that happened around them.
Now, once again awakened and alert, they have discovered a few things: a Station in massive disrepair, massive gaps in their memory, and a massive desire to tear down the society that made them do the horrible things they did.
Comrade is a grade-A tinkerer, with the ability to create and repair turrets that will aid you in your quest to defend the crystal. Let's check out their skills:
To Arms! (Passive) -- Shoves performed by this Hero on Research Terminals and Resource Generators repair them
Comrade Turret (Special skill) -- Creates an attacking Turret in front of this Hero
Revolution (Ultimate) ​ -- Temporarily transforms this Hero's Weapon into a static Turret
GET DUNGEON OF THE ENDLESS™ FREE ON STEAM
Take the edge off the final months of waiting for ENDLESS™ Dungeon with a quick round of its spiritual predecessor, Dungeon of the ENDLESS™ (aka DOTE). Our rogue-like pixel art project is free to keep on Steam if you add it to your library between July 24th and 27th.
Plus, you can snag both DLCs for free on the community platform while supplies last.
CHECK OUT STREAMS, UPDATES AND MORE
Last but not least, there's lots more fun-in-the-sun (and by sun we mean indoors) activities available here!
Check out some special streams hosted by Two Angry Gamers, including ENDLESS™ Dungeon themed cocktail and mocktail recipes, exclusive ENDLESS™ Dungeon gameplay and updates, and a new choose-your-own-adventure web comic series.
Finally, tune in on Day 2 for some HUMANKIND™ Updates and Horatio Dating sim gameplay.
Follow along via our Twitch channel and the ENDLESS Summer hub.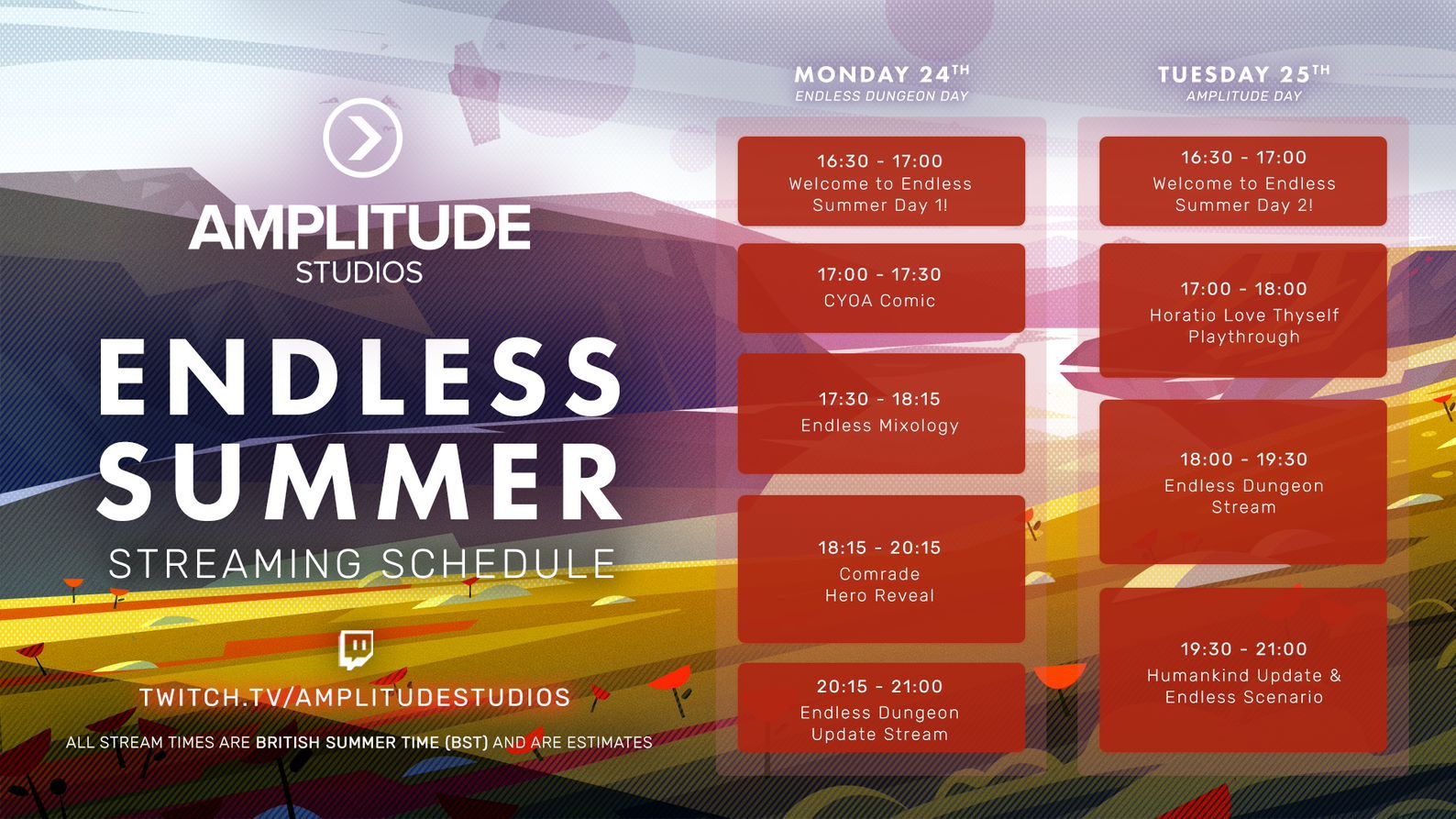 We hope to see you there!
About Amplitude Studios SAS: ​
​Amplitude Studios SAS is a team of experienced, quality driven video game lovers and creators of the finest strategy games with the help of our players! Founded in 2011 and acquired by SEGA in 2016, we are a team of over 170 developers based in Paris with an international team hailing from all over the world.
Our most current titles include the upcoming ENDLESS ™ DUNGEON, a squad-based rogue-lite tactical action game, and HUMANKIND™, a historical strategy epic where players combine cultures and lead their people from the Ancient to the Modern Era. We're best known for our critically acclaimed ENDLESS™ series, played by millions worldwide, including ENDLESS SPACE, ENDLESS LEGEND, Dungeon of the ENDLESS, and ENDLESS SPACE 2. ​
​​
​Our close relationship with the community is a core feature of the studio's philosophy. We're proud of the way we create games together with our players via Games2Gether, our custom-built community platform that enables our community to play a key role in the creation of our games at every stage of development. ​
​​
​About SEGA® Europe Limited:
​SEGA Europe Limited is the European Distribution arm of Tokyo, Japan-based SEGA CORPORATION, and a worldwide leader in interactive entertainment both inside and outside the home. The company develops and distributes interactive entertainment software products for a variety of hardware platforms including PC, wireless devices, and those manufactured by Nintendo, Microsoft and Sony Interactive Entertainment Europe. SEGA wholly owns the video game development studios Two Point Studios, Creative Assembly, Relic Entertainment, Amplitude Studios, Sports Interactive and HARDlight. SEGA Europe's website is located at www.sega.co.uk ​ ​ ​