HYENAS REVEALS NEW CHARACTER INSPIRED BY SEGA'S MOST-LOVED HERO
Is this gaming's greatest crossover of all time?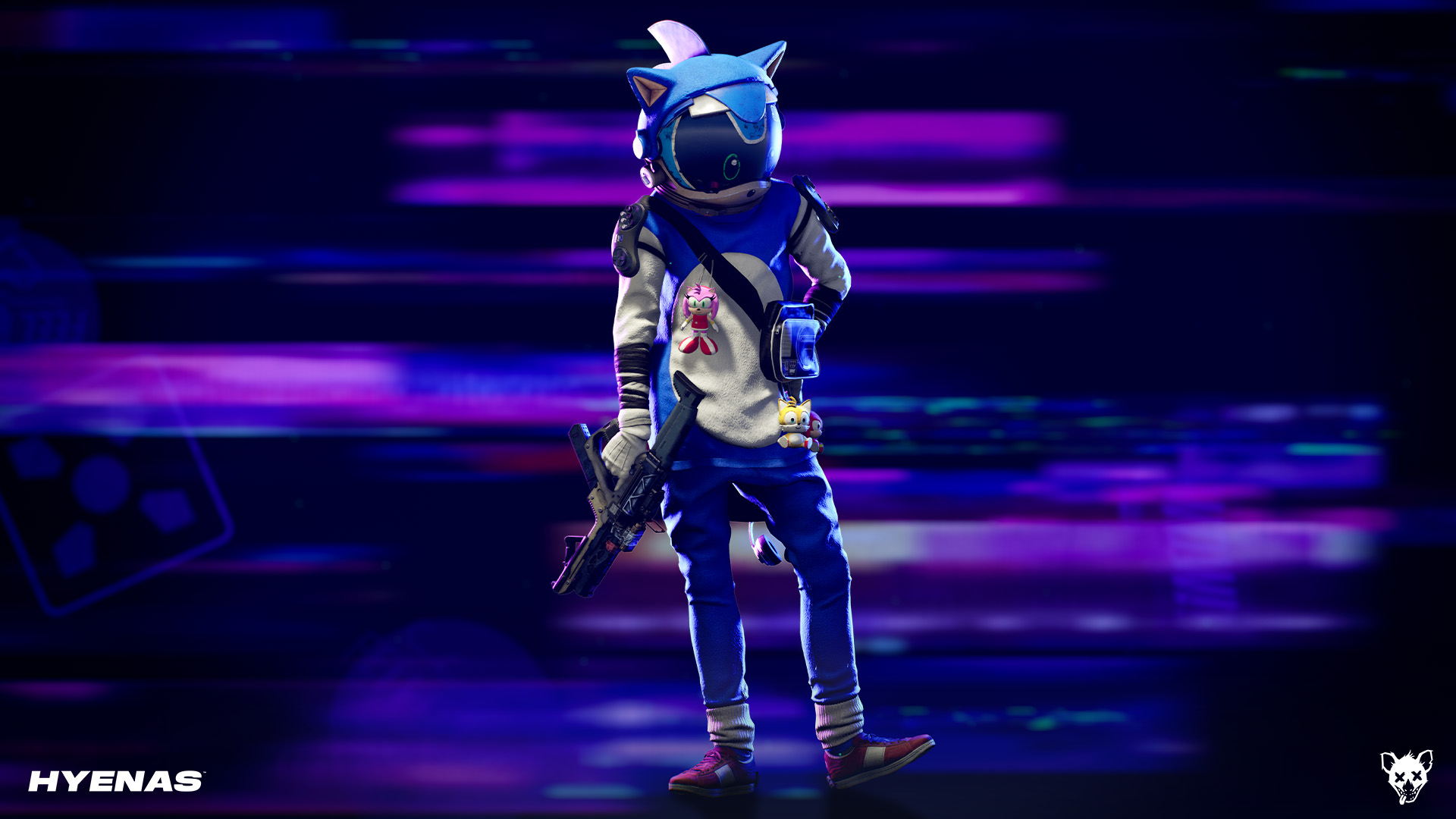 LONDON – MARCH 23rd, 2023 – Creative Assembly™ has revealed Hero-Ki, the cosplaying specialist who joins the playable crew in chaotic extraction shooter HYENAS™… and someone who has clearly been inspired by a certain speedy SEGA® series!
Hero-Ki was a minor celebrity back on Earth thanks to his cosplay and charity work but after being evacuated to The Taint, he's had to turn those same skills towards more nefarious pursuits. Armed with a specially modified camera to capture a target's likeness and cosplay as them, Hero-Ki can use his penchant for disguise to evade threats and exploit the environment in HYENAS, as only the sharpest-eyed rival will be able to detect the clues that reveal him as an imposter.
Hero-Ki takes his place among the other Hyenas which include specialists like the uzi-wielding ballerina Prima and foam-gun packing astronaut Commander Wright, with more character reveals still to come.
All PC players are invited to #JoinThePack at playhyenas.com for their chance to participate in the next alpha test, which begins tomorrow at 17:00 GMT. To give you a taste of what to expect, Live Product Director Alex Hunnisett took part in Future Games Show Spring Showcase to present Hero-Ki's debut and an exclusive HYENAS gameplay teaser.
In tomorrow's alpha, you'll get to play as Hero-Ki on both playable Plundership maps, letting you run wild across the New York-themed We Took Manhattan and the 80s-inspired Greed is Good. This alpha will be live for eleven days, giving players plenty of time to get stuck in and sharpen their tactics before its doors close at 09:00 BST on Monday April 3rd.
HYENAS is a multiplayer, multi-team extraction shooter where you play as misfit anti-heroes competing against other squads and security forces to steal pop culture memorabilia. You can follow the latest HYENAS action and updates via @PlayHyenas at Twitter, Facebook and Instagram. HYENAS is coming to Xbox Series X|S, Xbox One, PlayStation®5, PlayStation®4 and PC and is now available to wishlist on Steam.
###
About Creative Assembly™:
Creative Assembly is one of Europe's leading games development studios, founded in 1987 and located in West Sussex, UK and in Sofia, Bulgaria. With a heritage of award-winning AAA titles, including the multi-million selling Total War™ series, Creative Assembly continues to build an impressive portfolio of games including the newly announced first person shooter HYENAS and through world-renowned partnerships; with Games Workshop on Total War™: WARHAMMER®, Twentieth Century Fox on Alien: Isolation, plus 343 Industries and Microsoft on Halo Wars 2. Creative Assembly has, with their exceptionally talented team of over 800, amassed a wealth of awards including multiple Best Place to Work awards and accolades from BAFTA, Music+Sound and Develop's Industry Excellence awards. www.creative-assembly.com
About SEGA Europe Limited:
SEGA Europe Limited is the European Distribution arm of Tokyo, Japan-based SEGA CORPORATION, and a worldwide leader in interactive entertainment both inside and outside the home. The company develops and distributes interactive entertainment software products for a variety of hardware platforms including PC, wireless devices, and those manufactured by Nintendo, Microsoft and Sony Interactive Entertainment Europe. SEGA wholly owns the video game development studios Two Point Studios, Creative Assembly, Relic Entertainment, Amplitude Studios, Sports Interactive and HARDlight. SEGA Europe's website is located at www.sega.co.uk