HERE'S YOUR CHANCE TO DINE WITH A PRO MANAGER AT WEMBLEY, COURTESY OF FOOTBALL MANAGER AND PAPA JOHNS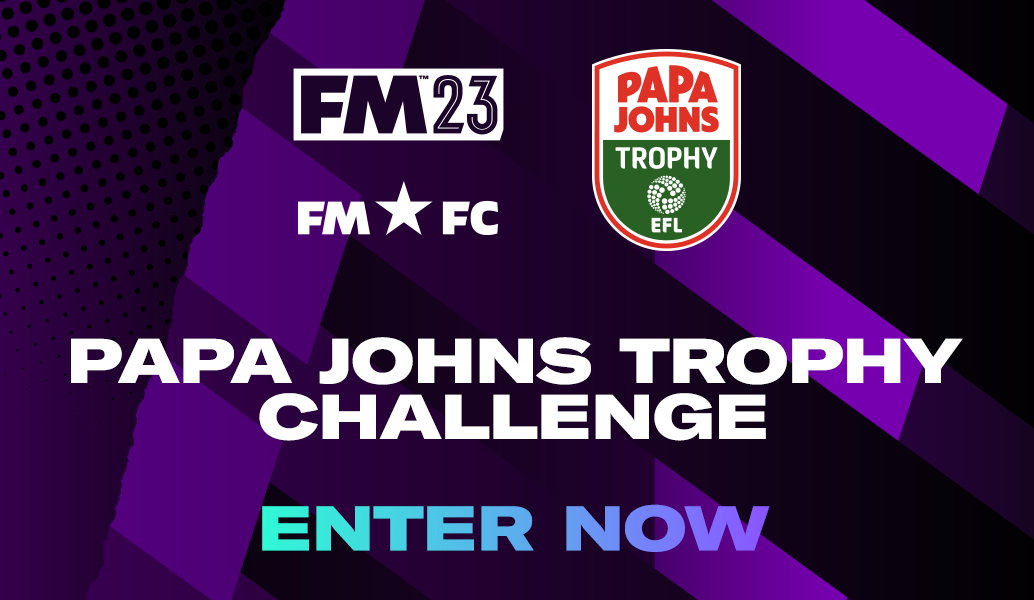 Football Manager Players will take the FM23 Papa Johns Trophy Challenge to prove they can win the Papa Johns Trophy within the game
Successful entrants will be in with a chance of enjoying a money can't buy experience at the real life Final at Wembley this April
Incentives include lunch with a professional football manager, the chance to hand-deliver the trophy to the winning captain, and a year's supply of Papa Johns pizza
UK - 26th January 2023 - As official partners of the EFL, Football Manager have teamed up with popular pizza delivery chain Papa Johns to launch a new 'FM23 Papa Johns Trophy Challenge' offering fans the chance to gain access to a one-of-a-kind VIP experience at Wembley this year.
Fancy yourself as the gaffer at Grimsby? Or the boss at Burton? Think you've got what it takes to lead Portsmouth to the promised land? No matter if you support Manchester City or Morecambe, WIN the Papa Johns Trophy within the game to complete the challenge and unlock a moped-load of opportunity.
The reward for a lucky number of fans that are successful in the PJT Challenge will be the chance to enjoy an access all areas Wembley stadium tour and dine with a professional football manager at the Papa Johns Trophy Final. Not only that, fans of the winning team could even be in with a chance of delivering the trophy to the winning captain in the Royal Box at the showpiece final on 2nd April, an honour that money can't buy.
That's not all, qualifying fans will also be in for a chance of winning a load of tasty prizes throughout the competition, with tickets to the Papa Johns Trophy Final, a year's supply of pizza and FMFC home shirts up for grabs between now and mid-March. ​
UK-based FM players simply need to lead an existing Sky Bet League One or Sky Bet League Two team to Papa Johns Trophy glory in FM23 before 17:00 GMT on Friday, March 17th ​ to enter. All entrants must be members of FMFC [link here], the Football Manager exclusive members club.
Richard Trafford, Sports Interactive's Head of Business Development and Partnerships, said: "Everyone at Sports Interactive is thrilled to announce the inaugural partnership between the studio, the English Football League and Papa Johns for the 2022/23 Papa Johns Trophy. After an enthralling final last April that saw Rotherham United claim the trophy for the second time, we now know the semi-finalists in the competition.
"The opportunity to present the trophy to the winning captain in Wembley's Royal Box is the definition of a 'once in a lifetime' prize and we can't wait to see how people engage with the Challenge.
"We had more than 80,000 players win the Papa Johns Trophy in FM22 and we're looking forward to seeing many more do so this year with such a great opportunity on offer for one lucky FMFC member."
Speaking on the challenge, Rebecca Rose, Marketing Director at Papa Johns UK said: "We're hugely passionate about using our sponsorship of one of the UK's biggest football trophies to give back to fans. That's why we're giving Football Manager players the chance to quite literally 'get their hands on' the Papa Johns Trophy, handing it over to the winning captain at Wembley in April."
"We're also extremely excited to offer winners the chance to dine with a pro manager, at the Papa Johns Trophy Final game – a truly money can't buy experience for fans."
For full terms and conditions, please visit www.footballmanager.com.
-ENDS-
About EFL:
The EFL (English Football League) is the world's original league football competition. It is the largest single body of professional clubs in European football and is responsible for administering and regulating the Sky Bet EFL, Carabao Cup and Papa Johns Trophy, as well as reserve and youth football. The EFL, EFL Trust and our member clubs are at the heart of communities across the country, providing shared experiences for all and using the power of sport to improve lives.
About Papa Johns:
'UK Social Purpose Award' at the UK Sponsorship Awards (2022)
'Innovator & Business Development Award' Winner for Delivery Spots - PAPA Industry Awards (2021)
'Pizza delivery chain of the year' - PAPA Industry Awards (2019, 2020)
'Best Vegan Pizza' for 'The Vegan Works' - PETA's eighth annual Vegan Food Awards
'Best Vegan Pizza' - Vegan Food UK Awards (2020)
The secret to success is much like the secret to making a great pizza - the more you put into it, the more you get out of it. Our pizza family is as hungry for perfection today as we were when we first opened our doors more than 30 years ago. And we're driven to be the best at making innovative new products and recipes.
Quality is at our core. It's the foundation we started with, from the first Papa John's pizza that was made in a broom closet in Jeffersonville, IN, to now more than 5,000 locations in 45 countries and territories around the world.
Our ingredients matter. Whether it's our signature sauce, toppings, our original fresh dough, or even the box itself, we invest in our ingredients to ensure that we always give you the finest quality pizza.
For you, it's not just a better pizza. It's a family gathering, memorable birthday, work celebration or simply a great meal. It's our goal to make sure you always have the best ingredients for every occasion.
About Sports Interactive™ Ltd.:
Sports Interactive (SI) is the world's leading developer of sports management simulations. Founded in 1994, SI became a wholly owned subsidiary of SEGA in 2006. Based in Stratford, East London, the SI team includes more than 270 full-time staff members, supported by a network of roughly 1,000 part-time researchers across the globe. SI is an official partner of many major football leagues and organisations, including UEFA, the Bundesliga, LFP, the EFL and the League Managers Association, as well as numerous charities and not for profit organisations. Further information on the studio and its work can be found at www.sigames.com.
About Football Manager™:
Football Manager (FM) is the world's leading football management simulation title. With more than 50 countries to manage in and a database of over 800,000 players and staff it offers an incredibly detailed and immersive experience. In FM you make all of the key decisions, from signing (and selling) players through training, team selection and tactics as you take your team to the top of the footballing world while carving out your own philosophy and strengthening your club's identity. FM has grown to become more than just a game and has embedded itself in the football industry; the FM database is used by several clubs to help shape their recruitment strategies and thousands of professional footballers and backroom staff members are committed fans of the game. FM has become an integral part of modern fan culture; the game has not only enhanced the collective footballing knowledge of its players but has been the inspiration for several books, a stand-up comedy show and even a feature length documentary. For more information on Football Manager, visit www.footballmanager.com.