FOOTBALL MANAGER 2022 – OUT NOW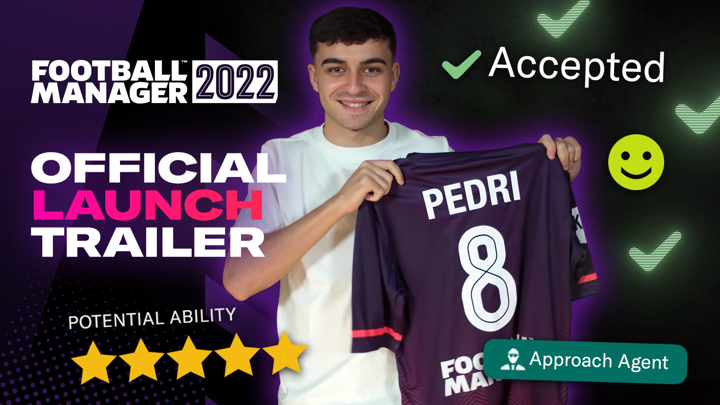 It's time for would-be managers to take their seat in the digital dugout as Football Manager 2022 is out now across all platforms. To mark the release of FM22, Sports Interactive have released a launch trailer featuring Spanish wonderkid Pedri that showcases the ways a manager can help their leading talents fulfill their potential and earn their team three points on matchday.
FM22 on PC and Mac is available from Steam, Epic and the Microsoft Store with fans able to download and play now. Those who have been enjoying the FM22 Early Access Beta can simply quit and restart the relevant launcher and the game will update to the full release build. All single-player progress made in the Beta will automatically carry forward.
Those purchasing a physical copy of FM22 will notice that, for the first time in the series' history, there is no disc included in the box. In place of the disc, you'll receive an activation code for Steam.
With major additions and improvements to core areas of the game, FM22 elevates the long-running series to new heights. The game's current Metacritic score is 87/100 and reviewers have called FM22 "The best Football Manager ever" (GiveMeSport), "The best of the bunch" (God is a Geek) and "The most joyfully compulsive entry yet" (Eurogamer).
Today also marks the release of Football Manager 2022 Xbox Edition, available from the Microsoft Store, after a successful return to the platform last year.
In an historic first, both FM22 and FM22 Xbox Edition are available with Xbox Game Pass from launch. As such, all Xbox Game Pass subscribers can start their careers on PC or Console* from Day One at no extra cost.
Completing the squad for this season, Football Manager 2022 Touch (Nintendo Switch™ only) is also now live on the Nintendo eShop and FM22 Mobile is now available for download from the App Store and Google Play. Those who pre-ordered on iOS devices will be able to play immediately.
For further information on FM22 across all platforms, visit www.footballmanager.com
*Only Football Manager 2022 Xbox Edition is available on Console.
- Ends -
FM22 Out Now.docx
DOCX - 1.2 Mb
Download