Company of Heroes Collection launches for Nintendo Switch on October 12th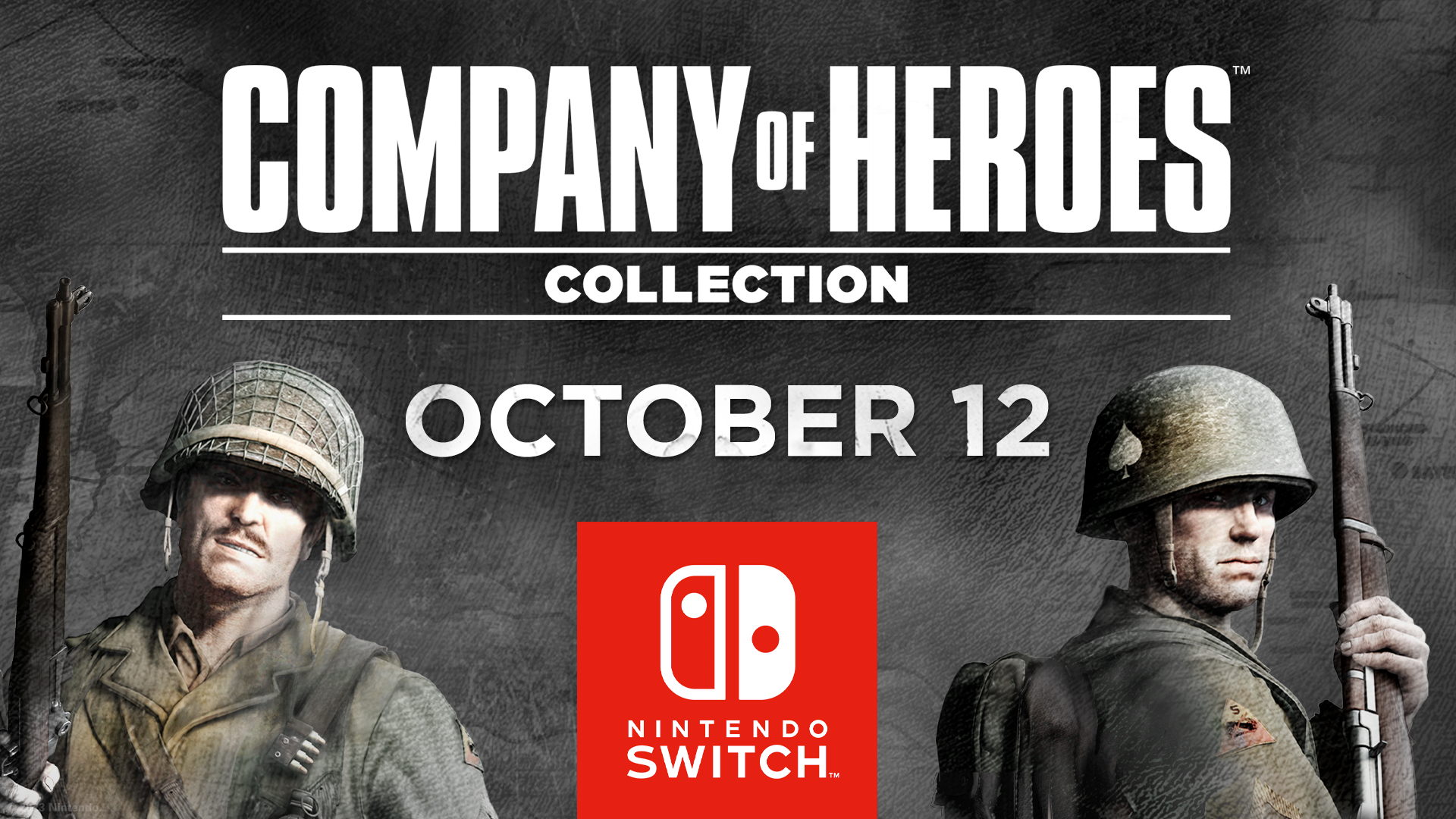 D-Day approaches and Company of Heroes Collection is making final preparations for its Nintendo Switch release on Thursday 12th October. Pre-orders are now live in the Nintendo eShop.
Brought to Nintendo Switch by Feral Interactive, Company of Heroes Collection will deliver the full World War II real-time strategy classic and its two epic expansions - Opposing Fronts and Tales of Valor - in one battle-hardened bundle. Players will lead American, British, Panzer Elite and Wehrmacht forces through decisive campaigns, mastering fast-moving combat and squad-based tactics using an all-new control scheme, custom-built for Nintendo Switch.
A new trailer for Company of Heroes Collection on Nintendo Switch is viewable now
Company of Heroes Collection is available to pre-order now on the Nintendo eShop ahead of its October 12th release, for $29.99 / €24,99 / £19.99.
Note: The Company of Heroes Collection will be single-player only at launch, with multiplayer planned for a post-release update.
---
About Feral Interactive
Feral Interactive is a leading developer and publisher of games for macOS, Linux, iOS, Android, Nintendo Switch and Windows platforms, founded in 1996 and based in London, England. It is responsible for such hits as The Lara Croft Collections for Nintendo Switch, Alien: Isolation™ for iOS, Android, macOS, Linux and Nintendo Switch, GRID™ Autosport for iOS, Android and Nintendo Switch, ROME: Total War™, Tropico™, Company of Heroes™, XCOM® 2 Collection, Total War™: MEDIEVAL II and Sid Meier's Railroads for iOS and Android, Life is Strange 2, Shadow of the Tomb Raider®, Total War: THREE KINGDOMS, XCOM® 2, Company of Heroes™ 2, and Total War: Warhammer I, II and III for macOS and Linux. Feral Interactive also developed the Windows, macOS and Linux versions of Total War: ROME REMASTERED. Visit the Feral Interactive website and find us on Twitter or Facebook. ​
About Relic Entertainment Inc.
Relic Entertainment™ is the award-winning development studio behind critically acclaimed franchises including Company of Heroes, Age of Empires IV, Warhammer 40:000: Dawn of War, and more. Since its inception in 1997, Relic has produced a rich catalogue of genre-defining real-time strategy titles and continues to innovate today as a SEGA-owned studio. Relic is located in Vancouver, Canada. Learn more at www.relic.com.
About SEGA® Europe Limited
SEGA Europe Limited is the European Distribution arm of Tokyo, Japan-based SEGA CORPORATION, and a worldwide leader in interactive entertainment both inside and outside the home. The company develops and distributes interactive entertainment software products for a variety of hardware platforms including PC, wireless devices, and those manufactured by Nintendo, Microsoft and Sony Interactive Entertainment Europe. SEGA wholly owns the video game development studios Two Point Studios, Creative Assembly, Relic Entertainment, Amplitude Studios, Sports Interactive and HARDlight. SEGA Europe's website is located at www.sega.co.uk
---
Assets
Key Art Banner
https://sega-press.com/download/315972/26a4cb66b99b924fc8eae2403a14ba524d0b8093
ESRB Trailer MP4
https://sega-press.com/download/315975/9f01e9e5881be6e90f513198f0f997e26e4a9610
PEGI Trailer MP4
https://sega-press.com/download/315974/9c024c828f5585273f03b977544e4b124146ff85
USK Trailer MP4
https://sega-press.com/download/315973/f3b5ebf531d3fec73a98bcd3b7aa578712c3a87d