CHAMPIONS OF CHAOS COMES TO TOTAL WAR: WARHAMMER III ON AUGUST 23rd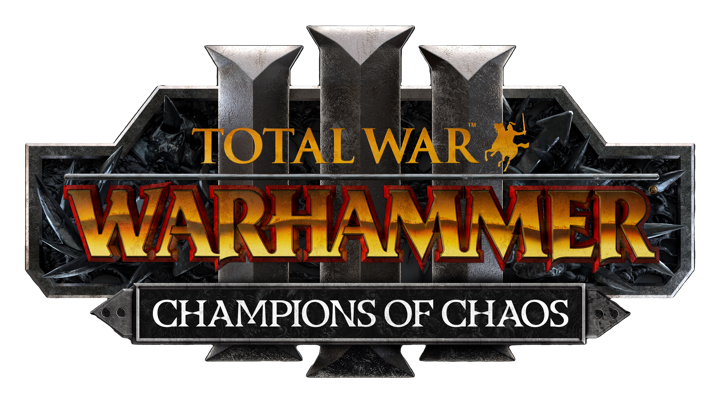 Four servants of the Chaos Gods vie for supremacy to alter the balance of power between them forever. Which of them will prove themselves worthy of the gods' favour and forge a path to the ancient arena-city of Zanbaijin to claim its arcane power as their own?
Champions of Chaos is the latest DLC for Total War™: WARHAMMER III®. Fit for a champion, this Lords Pack welcomes four new Warriors of Chaos Legendary Lords instead of the usual two, each of whom is aligned with one of the four ruinous Chaos Gods. Embark on campaigns of destruction with new gameplay mechanics, wreak havoc with over fifty new battlefield units, and enjoy free content such as the world-spanning Immortal Empires campaign mode.
Four New Chaos Legendary Lords:
The Champions of Chaos have risen through the ranks thanks to their infamous deeds to become the favoured of the four Dark Gods. The first to be revealed is Azazel, Prince of Damnation. The bane of humanity since time immemorial, his constant acts of devotion and debauchery have assured his high standing in the eyes of Slaanesh, the Chaos God of excess and hedonism.
A New Campaign Experience:
In the ancient arena-city of Zanbaijin, the servants of the Chaos gods have clashed for millennia and the souls of those who fall in battle are sealed within the Altar of Battle. As a Champion of Chaos, you must earn the gaze of your master through bloodshed and ritual before taking the arcane power as your own.
Over Fifty New Units:
Charging into bloodthirsty combat alongside their Champions is diverse host of battlefield units, including the Warshrine of Chaos which bestows terrible gifts upon those who make the appropriate sacrifice, Chaos Knights who ride as a wall of blades and spiked armor to crash through the enemy ranks in an explosion of torn flesh, and the Chosen, an ironclad group of elite slaughterers who form the inner circle of their lord's warband.
Free Content:
Immortal Empires is a new grand-scale campaign mode, free to owners of all three Total War: WARHAMMER titles. Releasing in beta alongside Champions of Chaos, it combines the landmasses, Legendary Lords, war units and much more from the trilogy into one colossal mode spread across the vast Warhammer world.
Blood For The Blood God III:
This gory effects-pack brings several mature-rated animations to Total War: WARHAMMER III such as blood spurts, limb and head dismemberment, blood-drenched UI elements, global campaign events that generate greater carnage in battle, and much more. It will be free to owners of Blood for the Blood God I or II.
For further information about Champions of Chaos, Immortal Empires or Blood for the Blood God III, please visit the Total War blog here.
###
About Total War™:
With more than 37.8 million copies sold, Total War is one of the most established and critically acclaimed series in gaming. A drive for historical authenticity and superb gaming quality has helped establish the franchise as one of the most successful PC games of all time. Alongside the core historical-based games, the Total War series has expanded to include free-to-play mobile (Total War Battles™: KINGDOM), fantasy epics (Total War™: WARHAMMER®), and historical snapshots (Total War Saga™: THRONES OF BRITANNIA). www.totalwar.com
About Creative Assembly:
Creative Assembly is one of Europe's leading games development studios, founded in 1987 and located in West Sussex, UK and in Sofia, Bulgaria. With a heritage of award-winning AAA titles, including the multi-million selling Total War™ series, Creative Assembly continues to build an impressive portfolio of games including the newly announced first-person shooter HYENAS and through world-renowned partnerships; with Games Workshop on Total War™: WARHAMMER®, Twentieth Century Fox on Alien: Isolation plus 343 Industries and Microsoft on Halo Wars 2. Creative Assembly has, with their exceptionally talented team of over 800, amassed a wealth of awards including multiple Best Place to Work awards and accolades from BAFTA, Music+Sound and Develop's Industry Excellent awards. www.creative-assembly.com
About SEGA Europe Limited:
SEGA Europe Limited. is the European Distribution arm of Tokyo, Japan-based SEGA CORPORATION, and a worldwide leader in interactive entertainment both inside and outside the home. The company develops and distributes interactive entertainment software products for a variety of hardware platforms including PC, wireless devices, and those manufactured by Nintendo, Microsoft and Sony Interactive Entertainment Europe. SEGA wholly owns the video game development studios Two Point Studios, Creative Assembly, Relic Entertainment, Amplitude Studios, Sports Interactive and HARDlight. SEGA Europe's website is located at www.sega.co.uk.
About Games Workshop®:
Games Workshop® Group PLC (LSE:GAW.L), based in Nottingham, UK, produces the best fantasy miniatures in the world. Games Workshop designs, manufactures, retails, and distributes its range of Warhammer®: Age of Sigmar® and Warhammer® 40,000® games, miniatures, novels and model kits through more than 523 of its own stores (branded Warhammer®), the www.games-workshop.com web store and independent retail channels in more than 50 countries worldwide. More information about Games Workshop and its other, related, brands and product ranges (including our publishing division 'Black Library' and our special resin miniatures studio 'Forge World') can be found at www.games-workshop.com
© Copyright Games Workshop Limited 2022. Warhammer, the Warhammer logo, GW, Games Workshop, The Game of Fantasy Battles, the twin-tailed comet logo, and all associated logos, illustrations, images, names, creatures, races, vehicles, locations, weapons, characters, and the distinctive likeness thereof, are either ® or TM, and/or © Games Workshop Limited, variably registered around the world, and used under licence. Developed by Creative Assembly and published by SEGA. Creative Assembly, the Creative Assembly logo, Total War and the Total War logo are either registered trademarks or trademarks of The Creative Assembly Limited. SEGA and the SEGA logo are either registered trademarks or trademarks of SEGA CORPORATION. SEGA is registered in the U.S. Patent and Trademark Office. All other trademarks, logos and copyrights are property of their respective owners.